Karri Jinkins is a yoga teacher, Ayurveda health counselor, and a writer based in New York City.
She has over 20 years of experience teaching yoga, meditation and wellness to people looking to improve their health, as well as to those who suffer from specific problems such as anxiety, obesity, exhaustion, hormonal imbalances, auto-immune diseases and depression.  Her goal is to help each person find their healthy sweetspot so they can live a more joyful life.
Karri specializes in women's health and immune-functioning through all phases of reproductive, menopausal and post-menopausal life. She works with corporations, individuals and schools to develop unique health plans for each person that suits their distinct constitution.
She is a co-founder of Amma-mama and the Brains & Bellies with AmmaMama podcast. She is a contributing author for the book,
Yoga Sadhana for Mothers
, and has written for various on-line publications, including the Huffington Post.
Karri has a Bachelor of Arts degree from the University of Wisconsin, Madison. 
Have questions? Please email me at karrijinkins@mac.com for a quick response.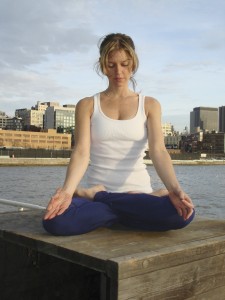 Find me on the below social media links.