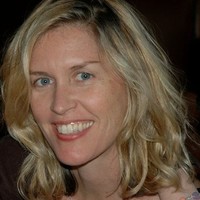 Karri has spent the last 19 years teaching yoga, meditation and wellness in New York City and writing about her experiences as a mother, yogi, Ayurvedic health counselor and seeker of truth.  She taught at Eddie Stern's New York yoga studios for many years as well as at Yoga Shanti, Kula yoga and Equinox, to name a few.  Karri works with corporations and individuals who are interested in improving their health.  She has 20 years of experience working with troubled teens, children, handicap people, Vets, corporations, and people suffering from anxiety, obesity, hormonal imbalances, auto immune diseases and depression.
She specializes in working with women to help balance hormones through all phases of their reproductive, menopausal and post-menopausal lives.
She developed a column for www.archetypes.com called Yogamama (which you can read on her blog) about her experiences as a mother and practitioner of yoga. She is a contributing author for the book, Yoga Sadhana For Mothers.
Karri currently works with individuals to develop a unique health plan that suits their distinct constitution.  She lives in Brooklyn with her husband and son and she writes for various on-line publications, including the Huffington Post.  She is working on her first book and simultaneously continues her studies of Ayurveda, Yoga and Nutrition.
Sign up for below to keep in touch and for details on upcoming events.