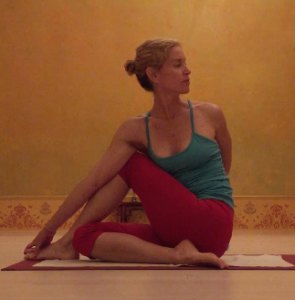 Through Ayurveda techniques we will uncover your unique constitution and then develop a specific yoga, diet and lifestyle plan perfect for you.  You will learn yoga postures, meditation and breathing techniques, as well as diet, herbal and lifestyle suggestions that together, will help bring your constitution back into balance and help you recognize and witness your true nature. Through this daily practice, you may experience better sleep, weight loss, increased energy, less hormonal fluctuation, greater focus, calmness, attention and harmony within you.  You will eventually feel comfortable practicing on your own. Promise.
Ashtanga Yoga (an eight-limbed path of self-discovery), was handed down to me from the teachings of  Sri K. Pattabhi Jois (Guruji) of the Ashtanga Yoga Research Institute in Mysore, India.  Ayurveda (literally means, the science of life), is one of the worlds oldest, whole body healing systems. It was introduced to me through the great teacher, Dr. Robert Svoboda.  Vipassana meditation (which means to see things as they really are), is a way of self-transformation through self-exploration and realization.  I was introduced to Vipassana through my great teacher, Asokananda of the Lahu village tribe in Northern Thailand.
Over the last twenty years, I have also done in-depth study of all of these techniques with other teachers including Eddie Stern, Tim Miller, Dr. Phillip Zarrilli, David Life, Sharon Gannon, Dr. Robert Sbovoda, Dr. Claudia Welch, Dr. Vasant Lad, Asokananda and Rinpoche Khyenste Norbu to name a few.  Through the study and practice of Ayurveda, meditation and yoga, I have come to understand that every individual is unique, hence every practice of every person should also be unique.
I teach private and group classes to adults and children in the New York City area. Please feel free to email karrijinkins@mac.com if you would like to begin this life changing practice.  I'm happy to answer any questions.  I offer the following:
Corporate classes in yoga, meditation, pranayama and Ayurveda
Private sessions in your home or office
Package of 10 or more private sessions
Seniors and Students discount private sessions
Sign up for free tips below…